Artist in the Haus
Filled to capacity, Hofbräuhaus Chicago serves up to 1000 people. Many employees work tirelessly to make our Haus a special place, and we are proud of our talented and diverse team who meet the needs of our clientele. One of those people is Ashley Caliendo. Ashley has been a server at Hofbräuhaus Chicago since 2016 and while she dons her authentic garb when meeting the needs of our guests, when she sheds her dirndl, she goes to a different and more colorful world.
Ashley is an artist. She developed her artistsic skills growing up in North Lake, Illinois. As a young child, Ashley showed a love for art. Her mother used to tease her because she had a propensity to color everything. Whether it was books to read or the toys she played with, Ashley loved to doodle in colors. That, to Ashley, was reading. Throughout middle school, she sought out classes that had anything to do with art. Ashley says, "I find art in everything."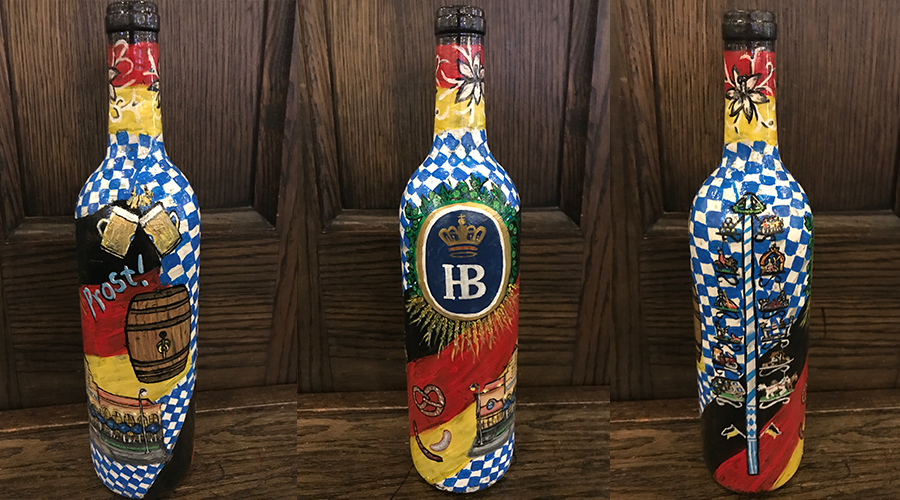 Upon entering West Leyden High School, she continued to pursue art, taking art classes and entering art contests. She won awards for her creations in colored pencil, pottery, and acrylic paintings. Her success in high school motivated her to pursue her love further. Ashley attended the Illinois Institute of Art-Chicago where she attained a Bachelor's Degree in Commercial Art Advertising. After college, while living in Chicago, Ashley worked for a t-shirt company designing logos and doing the artwork for large and small businesses as well as individuals.
Working with t-shirt design was based largely around graphic design and Ashley found this to be too limiting. She left t-shirts and while working in our Haus, she continued to do side-work as an artist and pursue her true love, which is creating fine art. One of her clients was the Radisson Blue Aqua Hotel in Chicago. She was commissioned by them to develop four painted wine bottles to represent Chicago genres throughout history. When she brought them to the Haus to share with colleagues it caught the attention of our General Manager, Jim Olson. Her talents struck him and he thought her special talents should be promoted here.
Jim charged Ashley with the task of creating artwork for a wine bottle for Hofbräuhaus Chicago that could be put on display here. The pictures (above) show the bottle from several perspectives and you can easily see her attention to detail and color make her work very special. This bottle will be on display in our Haus and there are conversations about future designs to further expand art in our Haus. Whenever there is a children's art project for the Haus, Ashley comes in and helps with these activities. Some of these include pumpkin painting at Halloween and ornament making and cookie decorating at Christmas.
Hofbräuhaus Chicago is so proud to have Ashley Caliendo in our Haus. If she comes to your table with her usual bright smile and you're aware of her creations, be sure to ask her about her artwork, and don't miss the wine bottle on display in our gift shop. Thank you, Ashley for bringing your love for art and passion for life to our Haus!
by Ed Jacobi has served as Master of Ceremonies at Hofbräuhaus Chicago
since it opened and is a contributing writer to the Good Times.