Crispy Pork Shanks Available every Friday & Saturday after 4PM Sundays after 1PM

130
SOUP OF THE DAY
Tagessuppe
Homemade soup of the day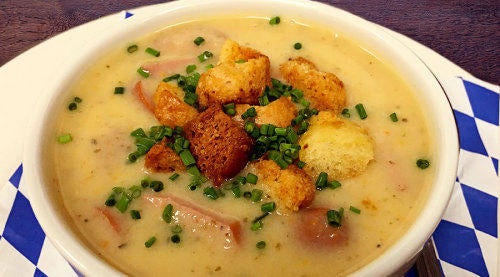 100
BAVARIAN POTATO SOUP
Kartoffelsuppe
Creamy soup with sliced sausage and fresh vegetables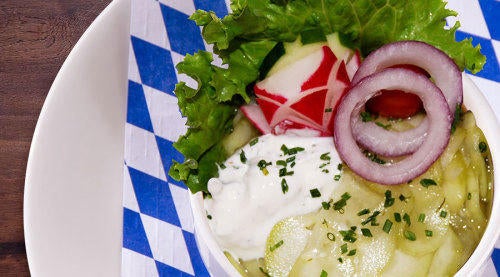 111
CUCUMBER SALAD*
Gurkensalat
Bavarian cucumber salad with dill and sour cream dip
515
HB Salad
Crisp seasonal greens, tomatoes, cucumbers and peppers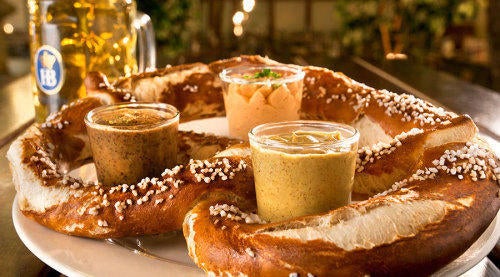 135
GIANT PRETZEL COMBO
Riesenbrezen Combo
Great for sharing! Served with Obatzda cheese, sweet mustard and onion mustard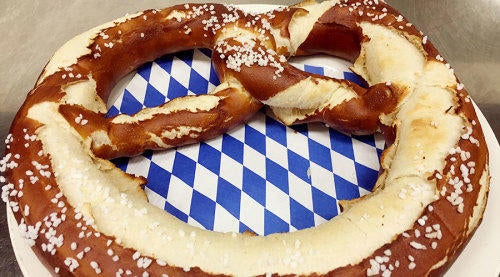 512
JUMBO PRETZEL
Riesen Oktoberfest Brezen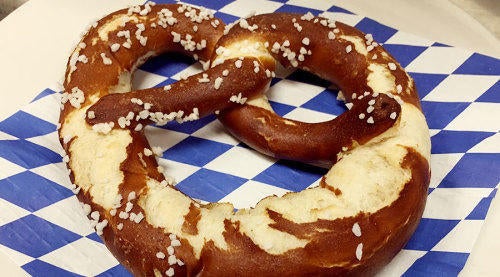 510
SMALL PRETZEL
Kleine Brezen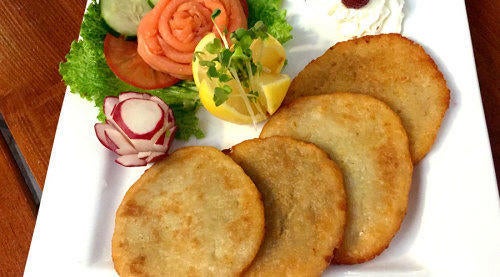 102
POTATO PANCAKES
Kartoffelpuffer
Three crisp and golden-brown potato pancakes served with smoked salmon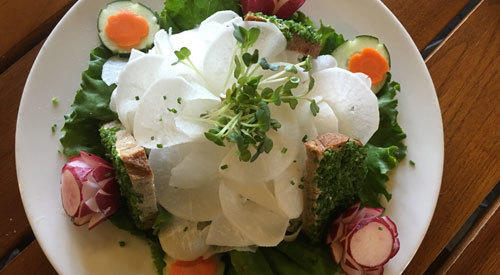 160
RADISHES & RYE
Bayerischer Raditeller
Bavarian white and red radishes with buttered rye bread and chives. Great starter and fun to eat. Much tastier with plenty of salt!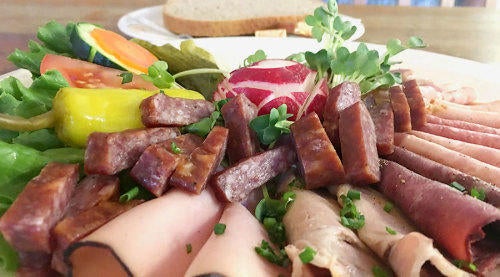 165
COLD-CUT PLATTER
Brotzeitteller
Pork roast, Black Forest smoked ham, sliced cold cuts, cheese, pickled gherkin, rye bread & butter, served with onions and mustard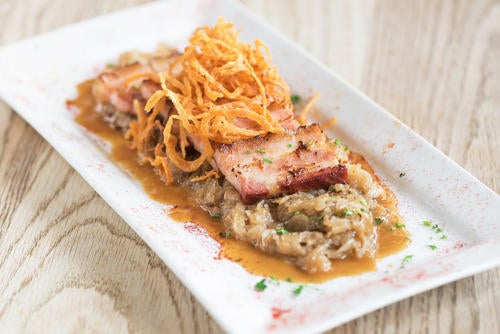 104
PORK BELLY
Schweinebauch
Smoked pork belly served with bacon sauerkraut, bier onion gravy and crispy onions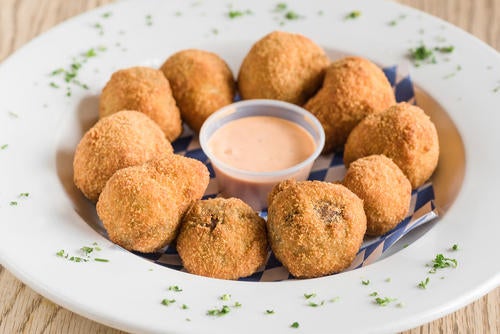 106
FRIED MUSHROOMS
Panierte Champignons
Lightly breaded golden fried crimini mushrooms served with a spicy sauce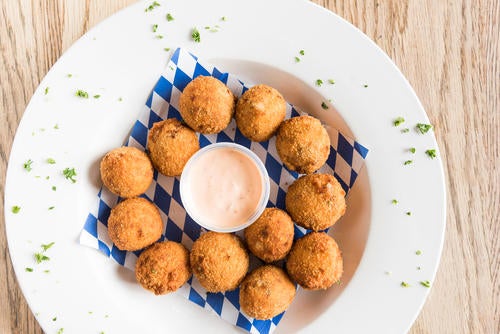 106
SAUERKRAUT BITES
Sauerkraut Bällchen
Lightly breaded sauerkraut bites served with a spicy sauce.

Ranch, Bavarian Blue Cheese and Vinaigrette Dressings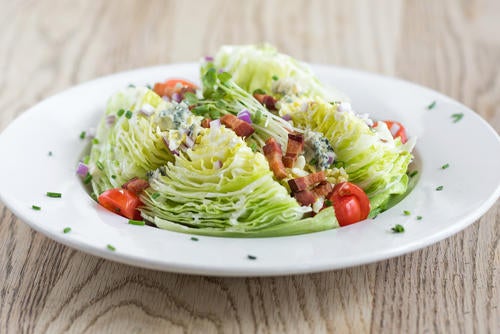 200
WEDGE SALAD
Eisbergsalat "saure marie"
Wedge salad with bacon, tomatoes, diced hard boiled eggs, red onions, daikon sprouts, chives and blue cheese crumbles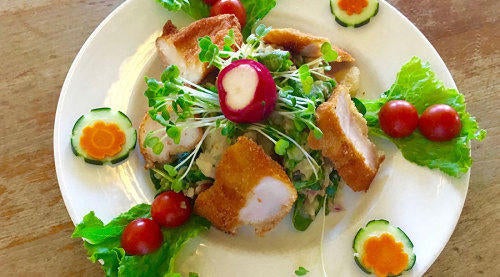 237
CHICKEN SCHNITZEL SALAD
Salat Mit Hähnchenschnitzel
Breaded chicken breast fried golden brown and sliced over spinach-potato salad, served with a warm bacon vinaigrette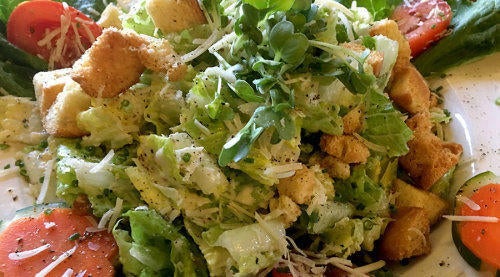 205
CLASSIC CAESAR SALAD*
Klassischer Caesar Salat
Crisp romaine lettuce and shredded cheese tossed in a Caesar dressing and topped with croutons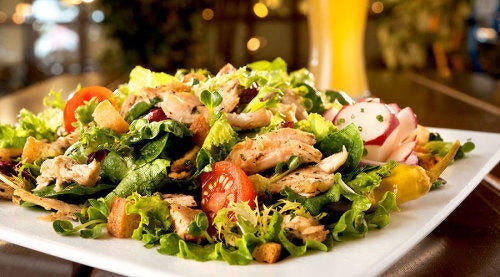 220
BAVARIAN SALAD PLATE*
Bayerische Salatplatte
Fresh salad of the season including tomatoes, cucumbers and peppers

All burgers & sandwiches served with french fries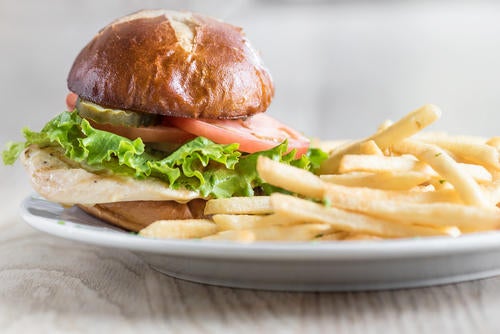 260
GRILLED CHICKEN SANDWICH
Schnitzelsemmel
Grilled chicken breast on a pretzel bun served with lettuce, tomato and onion.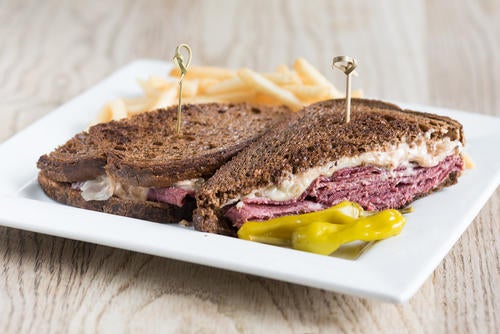 262
REUBEN SANDWICH
Reuben Sandwich
Thinly sliced corned beef, sauerkraut, Swiss cheese and 1000 island dressing, served on rye bread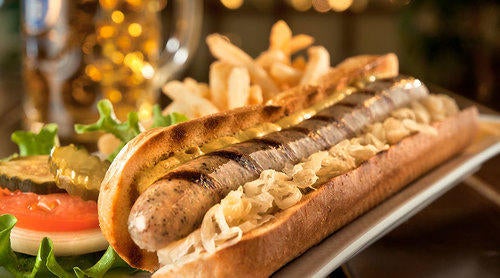 250
PORK SAUSAGE SANDWICH
Riesenbratwurst
Giant pork sausage served on french bread with sauerkraut and onion mustard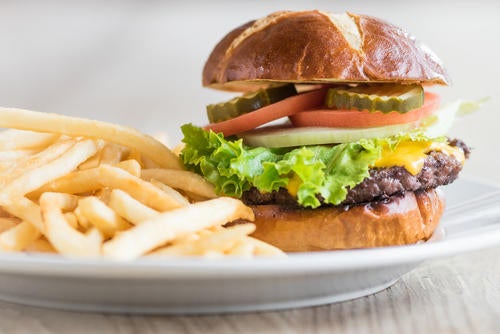 255
AMERICAN-STYLE HAMBURGER
Riesenfleischpflanzerl
American style 100% beef burger on a pretzel bun served with lettuce, tomato and onions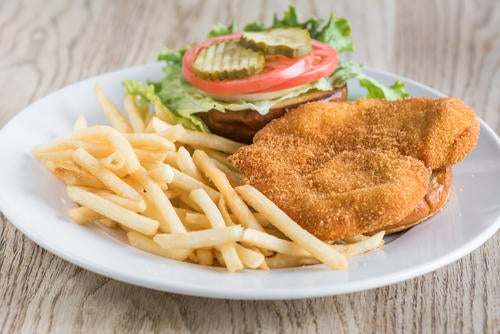 260
BREADED CHICKEN SANDWICH
Schnitzelsemmel
Breaded chicken breast on a pretzel bun served with lettuce, tomato and onion.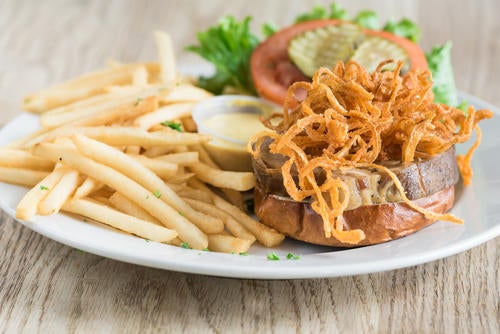 268
ROAST PORK SANDWICH
Bratensemmel
Roasted pork with horseradish-mustard, lettuce, tomato and crispy onions served on a pretzel bun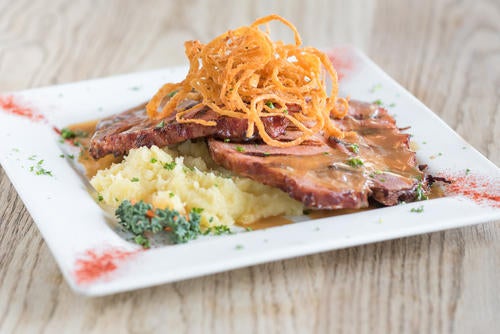 322
SMOKED PORK CHOPS(Dinner Only)
Kassler Rippchen
Two grilled smoked pork chops served with bacon-sauerkraut, mashed potatoes and HB bier gravy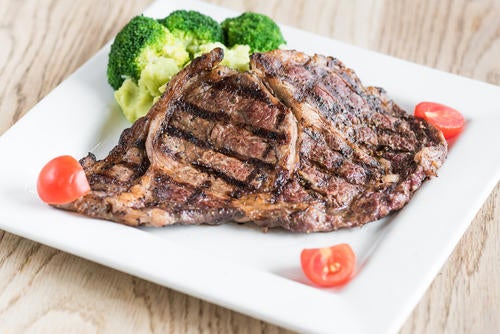 386
RIBEYE STEAK(Dinner Only)
Braumeister Ribeye Steak
Marinated grilled 10oz ribeye steak served with herb infused mashed potatoes and sautéed broccoli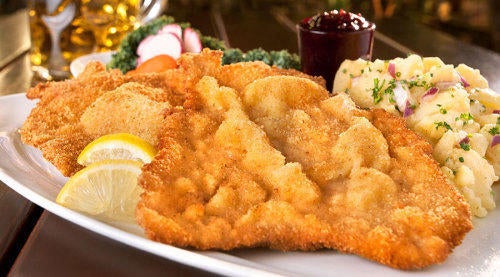 350
BREADED PORK CUTLET
Schnitzel Wiener Art
A classic Schnitzel served crisp and golden brown, with cranberries and homemade Bavarian potato salad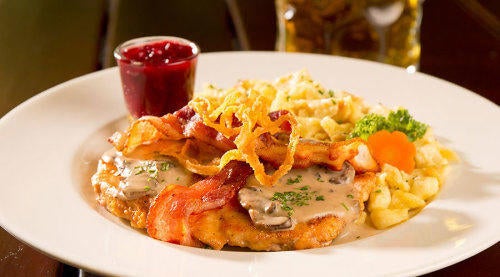 375
HUNTER-STYLE PORK CUTLET
Jägerschnitzel
Topped with creamy mushroom sauce, bacon & onions, and served with cranberries and homemade spätzle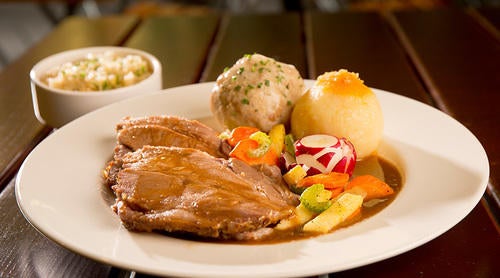 355
MUNICH PORK ROAST
Schweinebraten
Served with a vegetable garnish, dark beer sauce and a bread dumpling
Dinner portion served with bread & potato dumpling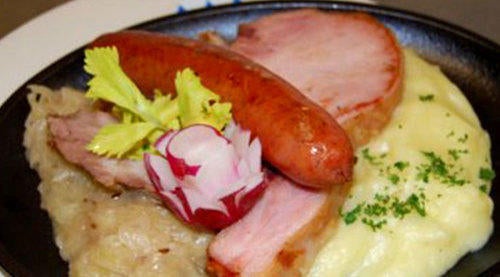 365
BAVARIAN SPECIALTIES PLATE (Dinner Only)
Bayerische Spezialitäten Platte
A giant platter with smoked pork loin, pork roast, smoked sausage, dark beer sauce, sauerkraut and mashed potatoes

370
OKTOBERFEST-STYLE ROASTED HALF CHICKEN* (Dinner Only)
Grillhendl
Juicy chicken stuffed with beer butter, parsley and onions, served with homemade Bavarian potato salad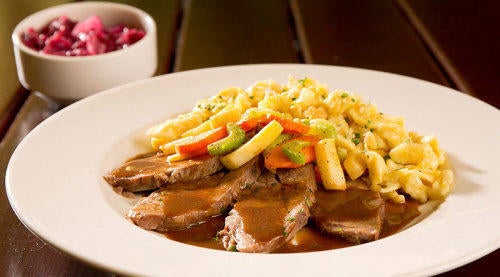 380
MARINATED POT ROAST (Dinner Only)
Sauerbraten
Served Bavarian style with red wine sauce, vegetable strips, homemade spätzle and red cabbage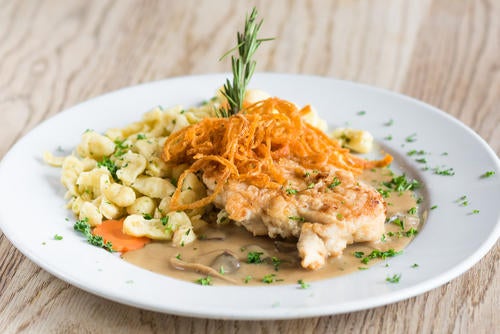 390
CHICKEN IN MUSHROOM SAUCE
Gegrillte Hähnchenbrust
A grilled chicken breast served with creamy mushroom sauce and homemade spätzle, garnished with crispy fried onions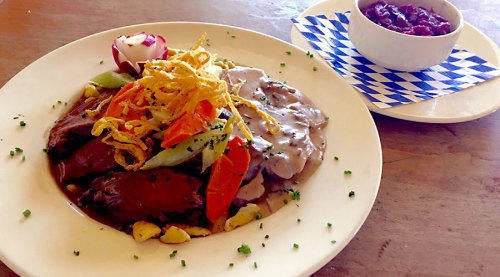 326
OKTOBERFEST "ROAST" PLATE (Dinner Only)
Oktoberfest Bratenteller
A Bavarian pork & beef specialty featuring a hunter-style pork roast and marinated pot roast (sauerbraten), served with Spätzle, vegetables and our famous red cabbage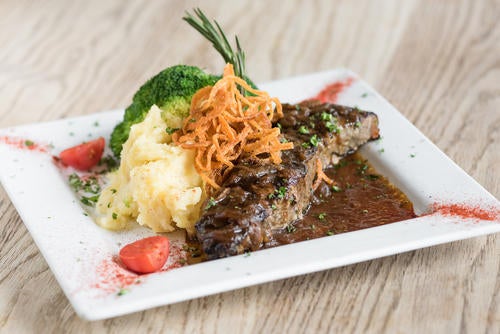 385
BIER STEAK(Dinner Only)
Bierkutscher Steak
Delicately seasoned 10oz. strip loin grilled to your liking and served served with herb butter and mashed potatoes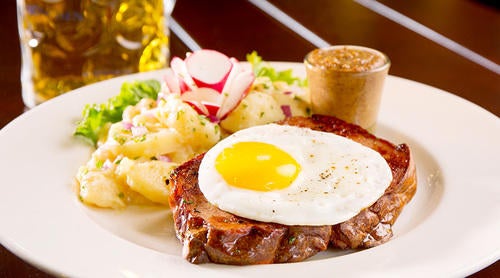 265
LEBERKÄSE SANDWICH (Lunch Only)
Leberkassemmel
Munich style sausage loaf on a pretzel bun with mustard. Egg is extra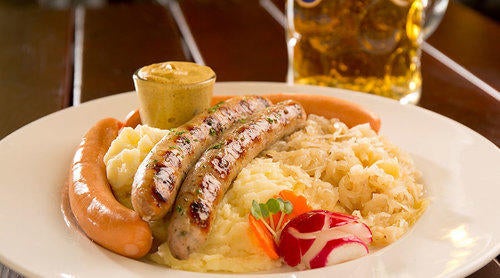 300
SAUSAGE PLATE
Wurstplatte
Vienna-style Frankfurter, pork and chicken sausages, served with imported sauerkraut, mashed potatoes and onion mustard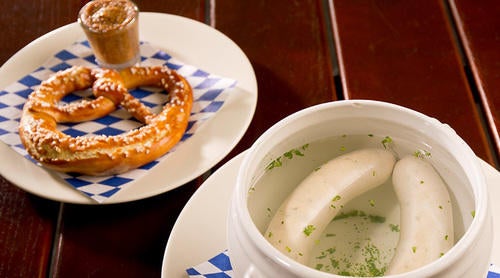 305/6
WHITE SAUSAGES
Weisswürste
Two of Munich's famous white sausages (veal and pork) poached or grilled and served with a freshly baked pretzel and sweet mustard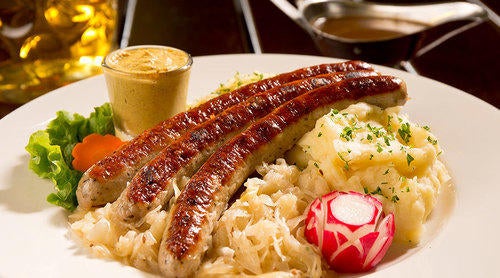 310
PORK SAUSAGES
Nürnberger Rostbratwürstl
Three sausages roasted and served with sauerkraut and mashed potatoes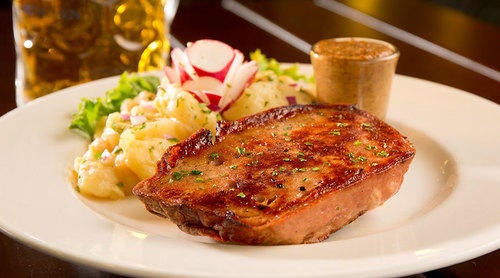 320
SAUSAGE LOAF*
Leberkäse
Bavarian grilled sausage loaf served with potato salad and sweet mustard imported from Munich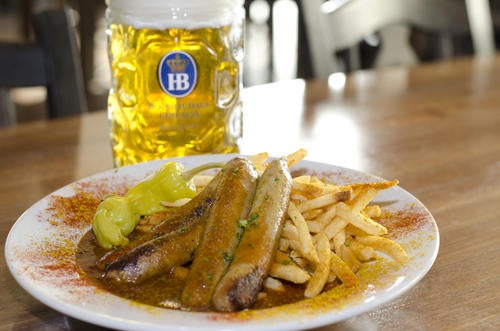 330
CURRY SAUSAGE*
Currywurst
Two grilled Krainer sausages topped with a delicious curry sauce and served with French fries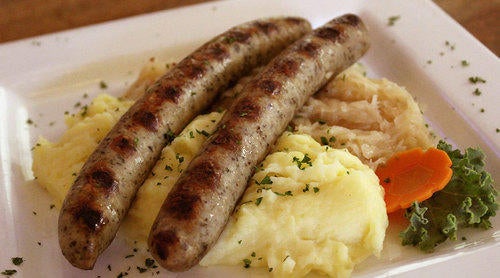 325
CHICKEN SAUSAGES
Geflügelbratwurst
Roasted and served with sauerkraut, mashed potatoes and onion mustard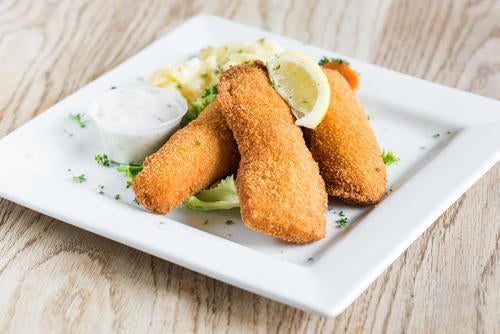 450
PAN-FRIED FISH FILLET
Gebackenes Fischfilet
Atlantic cod fillets breaded & pan-fried to a golden brown, served with tartar sauce, lemon and homemade potato salad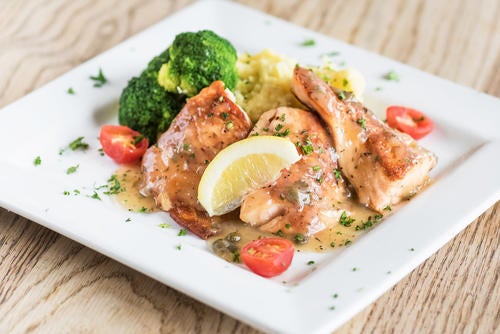 462
SEARED FISH FILLETS
Gebratener Lachs oder Gebratene Kabeljau Filets
Seared salmon fillet with tomato-caper vinaigrette served with Yukon Gold mashed potatoes and sautéed vegetables.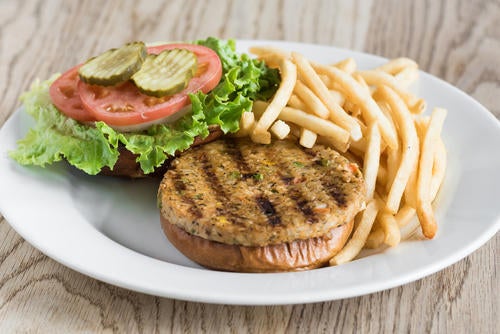 251
VEGETARIAN BURGER
Vegetarischer Burger
Tender vegan patty made with soy, grains and vegetables. Grilled and served with fries and Swiss or American cheese. Served on a pretzel roll.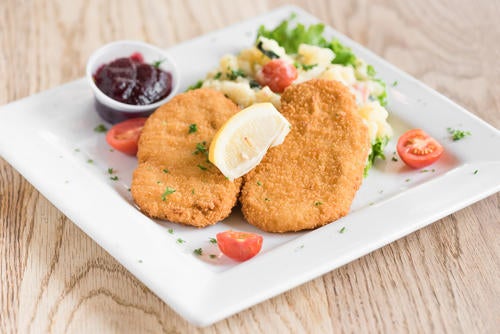 351
VEGETARIAN SCHNITZEL
Vegetarisches Schnitzel
Breaded vegetarian patties served with potato-cucumber salad, cherry tomatoes and cranberries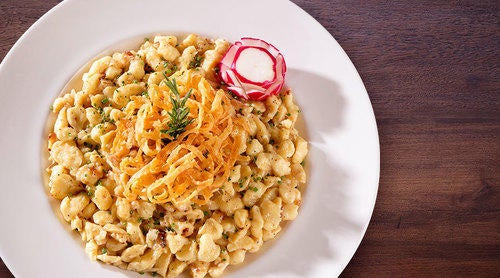 410
CHEESE NOODLES
Käsespätzle
A very special German noodle with Swiss cheese, crisp onions and side salad

Children 12 and under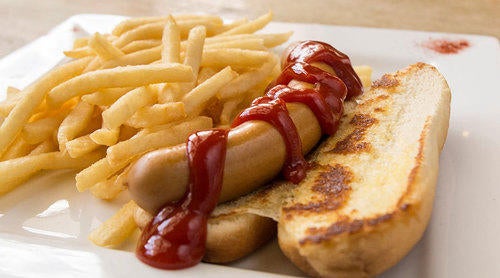 550
KID'S HOT DOG
Frankfurter on a bun with fries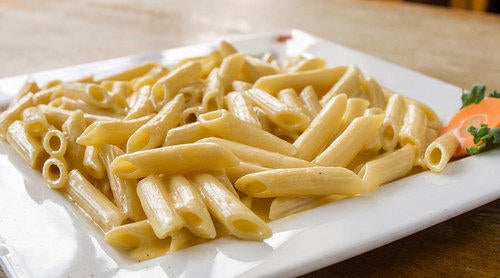 560
KID'S NOODLES
Pasta with butter or cheese sauce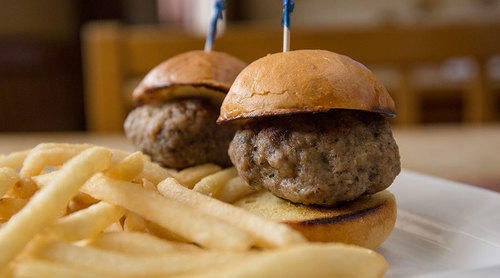 562
KID'S BURGER
Pork and beef patty with French fries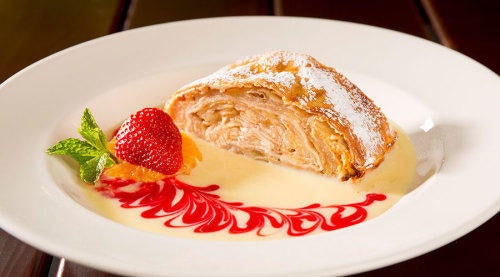 600
APPLE STRUDEL
Apfelstrudel
Imported from Bavaria and topped with a rich vanilla sauce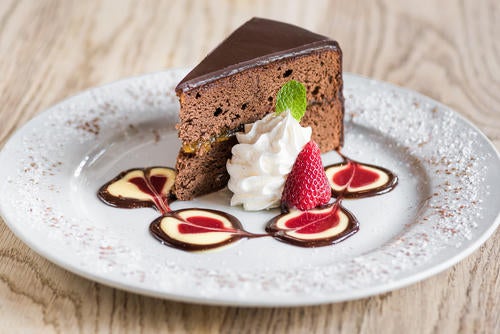 CHOCOLATE TORTE
Sachertorte
Classic torte of dense chocolate layered with apricot glaze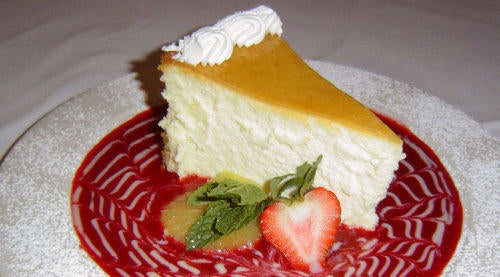 605
CHEESECAKE
Käsekuchen
Bavarian cheesecake with raspberry sauce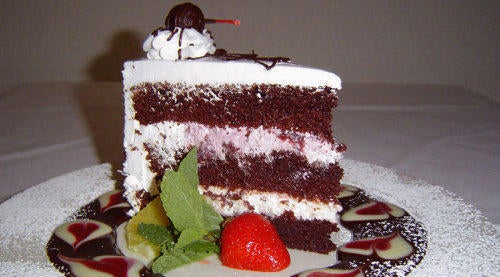 615
BLACK FOREST CAKE
Schwarzwälder Kirschtorte
Our most-famous treat

500
Bavarian potato salad, mashed potatoes, sauerkraut, spätzle, bread dumpling, red cabbage, potato dumpling (dinner only), applesauce
506
American rye bread with butter
505
German rye bread with butter
525
Imported Bavarian sweet mustard
526
Spicy homemade onion mustard

Pepsi, Diet Pepsi, Iced Tea, Lemonade, Root Beer, Sierra Mist
Gerosteiner Sparkling Water